7th Annual Autism Expo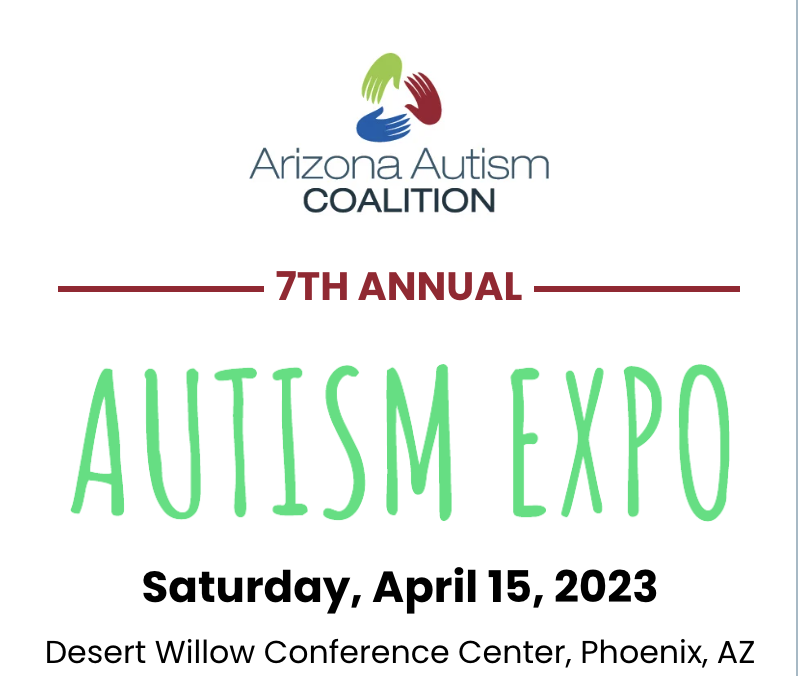 The 7th Annual Autism Expo is a FREE RESOURCE FAIR for families, caregivers and individuals with ASD to connect with local Arizona service providers and support organizations! Register today!
Over 70 exhibitors representing Arizona's Best Autism Services & Supports
5 Informative Workshops with Expert Speakers and Crucial Topics
Raffle Featuring 55" LED TV and other Great Prizes
Complimentary Directory and Tote Bag to Gather Information
Stop by and say hi to our Arizona team when you're at the 7th Annual Autism Expo!
The Arizona Autism Coalition improves the lives of individuals with Autism Spectrum Disorder and their families in Arizona by sharing resources and affecting autism systems reform through state-wide collaboration and advocacy.
The Coalition goals and objectives are designed to provide and support an inclusive membership organization for all service providers and families affected by autism in Arizona. The Coalition has selected priorities, which include:
Advocating jointly for better services and improved quality of life for persons with ASDs at the city, state, and federal levels​.
Educating professionals who interface with affected children.
​Identifying gaps in reaching those who would utilize training.
​Expanding the distribution of early identification and early intervention information to families via hospitals, medical offices, schools, daycare centers or any organization that comes in contact with children ages 0-5.
​Evaluating all ASD provider services and to come to agreement as to the best standards and practices and implementing those agreed upon standards and practices locally, statewide and nationwide.
​Developing active collaborations and cooperative partnerships.
​Developing a coordinated approach to addressing the Arizona Department of Economic Security (DES) and the Department of Developmental Disabilities (DDD) funding cutbacks.
​Identifying unique missions of the various ASD service providers to avoid duplication of services.
​Building alliances with respected peers, fostering community allies and promoting community involvement.
Venue
Desert Willow Conference Center

Phoenix

,

AZ

United States

+ Google Map