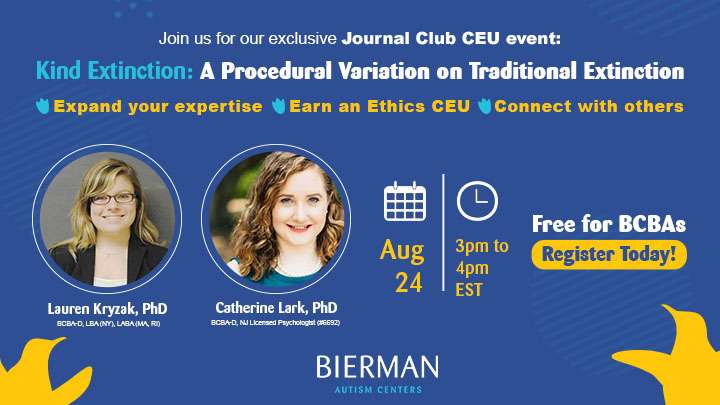 Bierman Autism Centers invites you to an exclusive Virtual CEU Journal Club.
Topic: Kind Extinction: A Procedural Variation on Traditional Extinction
Led by: Catherine Lark, PhD, BCBA-D, NJ Licensed Psychologist (#6692) and Lauren Kryzak, PhD, BCBA-D, LBA (NY), LABA (MA, RI)
Join us for an insightful discussion on ethical considerations, effectiveness, and clinical implications of modified extinction procedures.
Learning Objectives:
1️⃣ Compare traditional extinction with modified procedures.
2️⃣ Assess the use of social validity measures.
3️⃣ Explore the limitations of the current experiment.
Details:
To ensure an intimate and enriching experience, we have limited the number of participants. Secure your spot NOW as registration is first-come, first-served. And here's the best part: this exceptional opportunity is both FREE and open to all BCBAs.
To maximize engagement, please read the designated article beforehand, enabling us to delve straight into insightful conversations.
Don't miss out on this invaluable opportunity! Register today to reserve your spot and elevate your BCBA journey. We eagerly anticipate exploring this rewarding experience together.