FREE Sensory-Friendly Reptile Show
March 16 @ 5:00 pm

-

6:00 pm

Free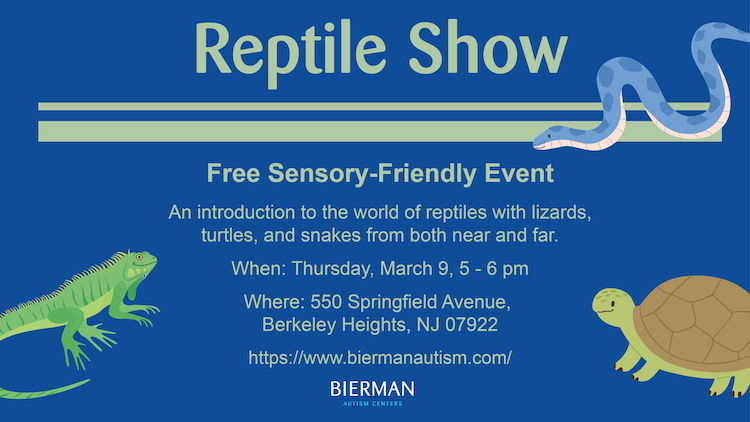 Embark on a Journey into the Reptile Kingdom at our FREE Sensory-Friendly Reptile Show!
Bierman Autism Centers – Princeton to you to join us for a one-of-a-kind free reptile showcase!
Interact with an array of scaly creatures, including lizards, turtles, and snakes, and learn about their remarkable world. Savor a light refreshment while taking in the sounds and sights of these captivating animals.
Join us on Thursday, March 16, 2023, from 5 – 6 pm, at 742 Alexander Rd, Ste 200, Princeton, NJ 08540, for an adventure for the whole family.
RSVP today to take your journey into the fantastic world of reptiles!
Can't make it to our FREE Sensory-Friendly Reptile Show and still want to learn more about Bierman? Call us at (800) 931-8113, and we'll gladly share more information.
Company Description
Bierman Autism Centers offers comprehensive early-intervention services, including Diagnostic Testing, ABA Therapy, and Speech and Occupational Therapy. We serve children from 18mo to 9yrs using a center-based ABA model, which allows the clinical team to create an environment designed for learning and peer interaction.
With locations in seven states, we recognize that every kid's success is unique, and our approach allows us to drive progress and measurable outcomes while each child is advancing on their own terms. Our mission is to create progress and possibilities, and the teams continuously raise the bar while providing 1:1 therapy to maximize learning opportunities.