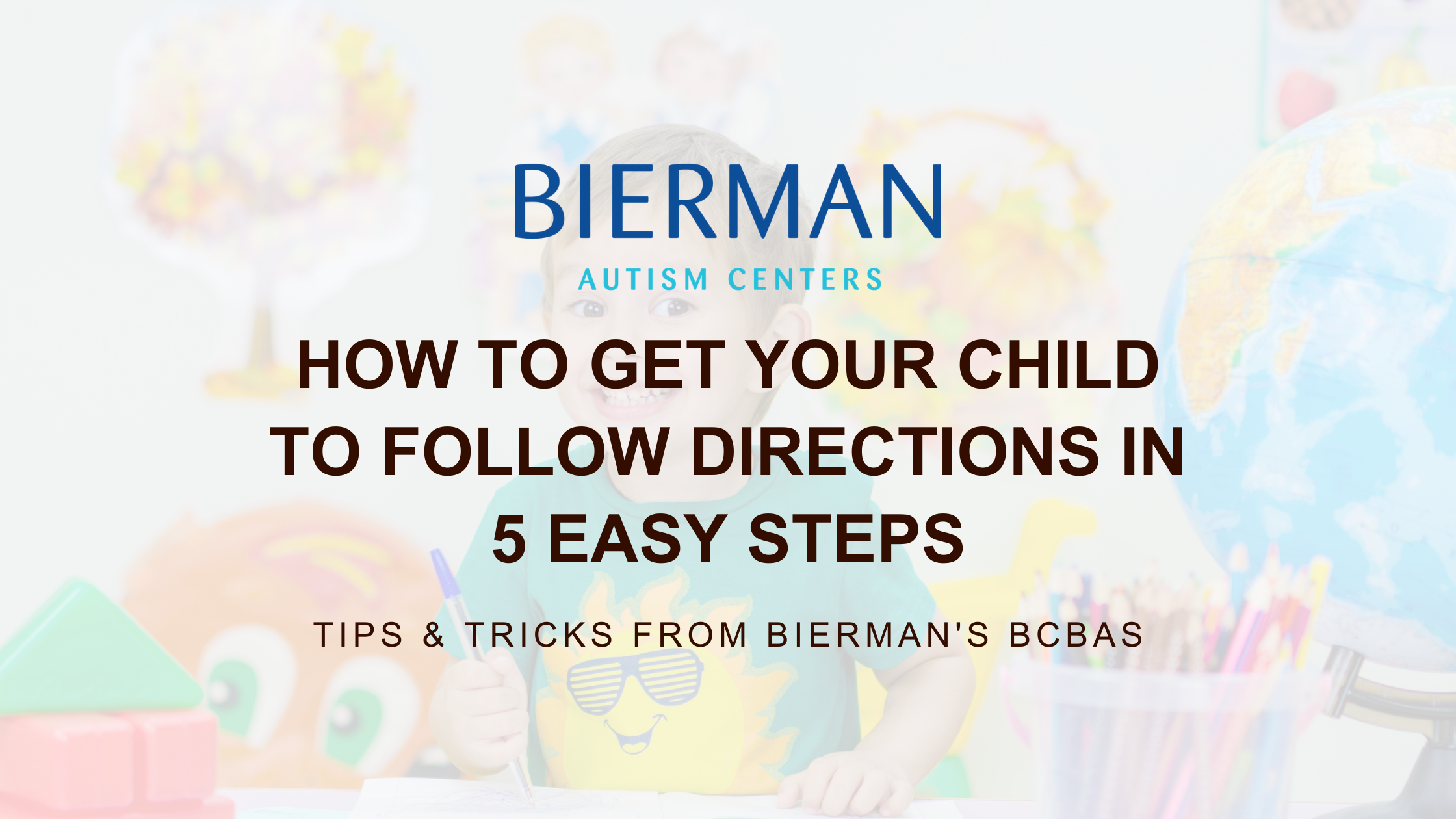 Many parents of children with and without disabilities often struggle with getting get their child to listen to them or follow directions. Here are 5 simple steps we've compiled  to follow to help teach your child to listen and follow directions.
Get close to your child before you start talking or giving a direction. It is suggested that you are less than 5 feet from your child before giving any directions. If your child can't hear you or understand you, they can't follow your directions!
Gain eye contact with your child. This will get their attention and provide a good opening to give a direction. You may need to prompt eye contact by calling their name. For example, "Johnny, look at me" or use physical guidance to move their face toward yours. ALWAYS praise them for looking at you.
Once you are close and have eye contact give a clear and concise direction.  When giving a direction make it a command or statement, do not make it a question. Instead of saying, "Can you get your backpack", say, "Get your backpack". At first it might be necessary to use only simple one-step directions in order to avoid confusion.
Praise and reward your child for every direction that is followed and for all attempts to follow directions. If your child attempts to follow the directions but can't quite get it done, praise them for trying and help them complete it. Praise and rewards should follow immediately. Avoid negative statements like "That's not what I asked you to do" and "You aren't listening to me" and ignore mistakes, remember at least they are trying.
ALWAYS follow through. Make sure your child completes what you ask them to do even if physical guidance (i.e., hand over hand) is needed. In order to avoid empty threats or promises, only issue the directions if you are 100% committed to making sure that your child follows through. Don't allow your child to avoid or escape directions placed upon them, as you want your child to learn that when you give them a direction the expectation is that it will be followed or you will help.
Remember learning should be fun. The more excited you are about it, the more excited your child will be to do it. You can also make a game of learning to follow directions. Hide a quarter (or something the child likes) somewhere in a room. Tell the child that he may have the item if he will listen to your directions and follow them exactly. Remember give the directions only once and if they find the item they get to keep it.
– guest blogger, Chrissy Barosky, MA BCBA
Manager of Clinical Development, Bierman ABA Autism Centers