May is Better Hearing and Speech Month, a time to raise awareness about communication disorders and the professionals who help individuals overcome them. At Bierman Autism Centers, we celebrate our Speech Language Pathologists (SLPs), who play a crucial role in helping our clients communicate effectively. Speech Language Pathologist Sabrina Bankemper, M.S., CCC-SLP, answers the question, "What is Speech Therapy?"
When I first saw this prompt for Better Speech and Hearing Month, I felt a bit overwhelmed. Speech therapy means so much to me on so many levels. It's about the joy of witnessing a child say "mama" for the first time, using a communication device they never thought they'd be able to use. It's about helping a little one who only used to say "yeah!" develop the skills to connect with their peers and make lasting friendships. And it's about empowering a school-aged kid to speak confidently and feel proud of their voice.
But it's not just about children. It's also about helping a teenager who's had a traumatic brain injury to regain their focus and attention or teaching an adult man how to manage his stutter so he can ask that special someone out on a date. And it's about working with an elderly client who's had a stroke to find ways to communicate their wants and needs so they can feel heard and understood.
Speech therapy is so much more than just teaching people how to speak. It's about building connections, boosting confidence, and giving people the tools to express themselves.
Speech Therapy involves a wide range of practices that help individuals to communicate effectively. While it's often associated with correcting speech patterns, it encompasses much more. The scope of practice of Speech Therapy includes:
Cognition
Articulation
Phonology
Pragmatics
Motor speech disorders
Swallowing/feeding
AAC
Fluency
Hearing loss
Literacy
Voice
Expressive/receptive language
These practices enable Speech Language Pathologists to work with people of all ages, from children to the elderly. Speech Therapy is about empowering individuals to communicate their needs and wants, acquire the tools to build relationships, and even be safe in the world.
Speech Therapy at Bierman Autism Centers
Children diagnosed with autism often struggle with communication, including difficulty using language and socializing with others. This can indicate a speech or language challenge, which our highly trained speech-language pathologists can assist your child in overcoming with a personalized treatment plan. By integrating Speech Therapy into our ABA therapy programs, children can practice their language skills in a natural setting that can easily translate to their home or school environments. Our programs utilize Speech Therapy services to target verbal, nonverbal, and social communication skills to help children reach their full potential.
What Speech Therapy Means to Different People
Here are some responses from Bierman's SLPs about what Speech Therapy means to them:
Connie in Indiana: "Speech Therapy means I can equip my clients and their families with the means of supporting everyday communication. It means I get to wear many different hats and do something new every day – whether it's AAC, articulation, language, or feeding. Speech Therapy also means that I get to be an advocate for those who may not be able to advocate for themselves."
Kate in Rhode Island: "Speech Therapy is giving our clients the skills to initiate and advocate for themselves. It's teaching them to say whatever they want to say, however, they want to say it! It's also educating and coaching families to feel empowered and collaborating with other professionals to get the best outcomes for our kids both in the home and in the clinic!"
Jess in Indiana: "Speech Therapy to me is providing my clients with the means to advocate their wants, needs, and ideas."
Alex in New Jersey: "Speech Therapy means giving a child a voice to communicate their basic needs and a variety of functions. It means giving a child the opportunity to communicate during child-led play while having fun!"
Celebrating Our SLPs at Bierman Autism Centers
Our SLPs at Bierman Autism Centers are dedicated professionals passionate about helping our clients communicate their needs and wants. They empower our clients to build relationships and develop the tools they need to be safe. The SLP team is full of skilled professionals and compassionate individuals who work tirelessly to help our clients overcome so much.
As we celebrate Better Hearing and Speech Month, we recognize the important role of Speech Language Pathologists in helping children diagnosed with autism. At Bierman Autism Centers, we're proud to celebrate our SLPs, who make a difference in our clients' lives every day. If you or someone you know could benefit from Speech Therapy, don't hesitate to contact a professional SLP.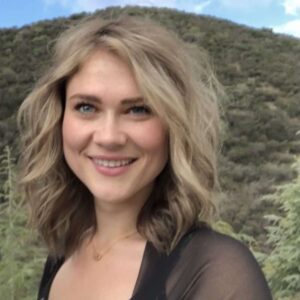 Sabrina completed her undergraduate program at Northern Arizona University in Flagstaff, AZ, in 2019. She earned her Bachelor's degree in Interdisciplinary Studies- Speech-Language Sciences and Technology, a certificate in Speech-Language Pathology Assistant, and a minor in Disability Studies. She completed her graduate education at Arizona State University, earning her Master's in Communication Disorders in 2021. Throughout her education and time in the field, Sabrina's clinical experience focused heavily on working with the pediatric population in several settings. She loves working with kids and building rapport with families and cannot wait to continue.