Sensory crafts are a great way to engage your child's senses while allowing them to explore their creativity. Whether you're looking for a hands-on activity at home or a fun classroom project, there are plenty of St. Patrick's Day sensory crafts. In this blog post, we'll share some of our favorite St. Patrick's Day sensory crafts that will delight children of all ages. From sensory jars and bins to shamrock paintings, these crafts are easy to make and will provide hours of sensory fun!
Sensory Activities for kids: St.Patrick's Day Sensory Jars
These sensory jars are fun and easy to make, and the children will have a great time playing with them afterward.
Build new vocabulary: Green, Shamrock, Jar.
Puffy Paiint Shamrock
This St. Patrick's Day sensory play activity is great for all ages!
Build new vocabulary: paint, glue, green, shamrock, paper, brush
Lucky Charms Learning Pack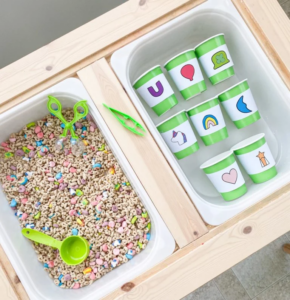 Using Lucky Charms for a St. Patrick's Day activity is always a treat!
Build new vocabulary: lucky, green, tape cup.
We hope you have fun making these St. Patrick's day sensory crafts. We would love to share more information about Bierman with you. Reach out to us at 800-931-8113 or email start@biermanautism.com.