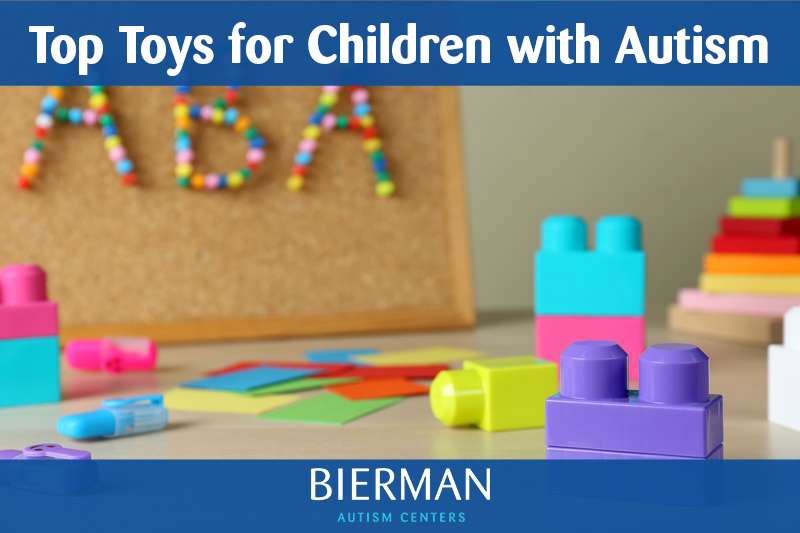 Inclusive Play: The

Best Toys

for Children Diagnosed with

Autism

and Their Role in ABA Therapy
 Every child is unique, with their own individual preferences, abilities, and interests. This concept especially holds for children diagnosed with autism spectrum disorder (ASD), where their world might seem distinctively different. But one commonality binds all children: the innate love for play. Selecting the right toys for children with autism or children with sensory issues can transform their learning, communication, social skills, and social interaction experiences. As an Applied Behavior Analysis (ABA) Therapy expert, I'd like to guide you through an extensive list of top autism toys that cater to the specific needs of these extraordinary children.
Let's dive into a world where the best sensory toys are more than just playthings; they are tools that promote growth and development in children with autism.
Sensory Toys

: Exploring the Senses
For children with autism, the world is a sensory-rich environment, often leading to sensory-seeking or sensory-avoiding behaviors. Sensory toys cater to these unique needs, providing a means to self-regulate and help calm down. Squishy balls, fidget spinners, putty, trampolines, necklaces, light-up toys, fidget toys, or weighted stuffed animals are fantastic choices offering different textures. A standout in this category is the Chewy Tubes Super Chews. Made of silicone, these great toys offer a safe and bacteria-free alternative for children who need oral sensory input. These sensory play toys cater to the sensory processing needs of children with autism, offer tactile stimulation, sensory stimulation, and help them navigate their world more comfortably.
Puzzles: A Piece at a Time
Puzzles are an excellent resource for fostering problem-solving, cognitive development, and fine motor skills during playtime. They also provide a sensory experience, especially those with different shapes and textures. Brands like Melissa & Doug's Wooden Puzzles offer a variety of themes and difficulty levels to cater to every child's capabilities and help with gross motor skills. Additionally, figuring out where each piece belongs can provide a much-needed sense of order and accomplishment.
Building Blocks

: Constructing Confidence
Building blocks, like LEGO DUPLO sets (found on Amazon), stimulate creativity, enhance motor skills, and improve spatial awareness. Children of all ages, like preschoolers, use these bright color toys for imaginative play, allowing children to create their own worlds. When played with others, these fun toys can encourage social interaction, teamwork, and the sharing of ideas, fostering essential communication skills.
Visual Schedule Boards: Structuring the Day
Children with autism often find comfort in routines. Visual schedule boards like the SchKIDules Visual Schedule help children with special needs understand and anticipate daily routines like cleaning up. They reduce anxiety associated with transitions and unfamiliar events, making them less daunting. In essence, these boards serve as a visual story of the child's day, providing a sense of control and predictability.
Repetitive Phrase Books: Language Through Patterns
Children with autism may struggle with language and communication. Books with repetitive phrases, like Eric Carle's "Brown Bear, Brown Bear, What Do You See?" (found at Target), can help. The predictability of the repeated phrases allows children to anticipate what's coming next, fostering language development and comprehension. They are also a fun way to encourage interaction when read aloud, stimulating communication skills.
Social Story Games: Emotion and Interaction
Understanding social cues and emotions can be challenging for children with autism. Social story games like the Thought-Spot I Know What to Do Feeling Cards teach children about various emotions, social cues, and the appropriate responses to different situations in a fun and engaging way with pretend play. By creating a safe environment to explore emotions, these story games enhance a child's socio-emotional understanding for your little one.
Cause-and-Effect

Toys: Learning the Consequences
Cause-and-effect toys, such as the Fisher-Price Brilliant Basics Pop-up Activity Toy, are essential to the toy chest. They provide a tangible demonstration that actions have consequences, a concept that might be difficult for some children with autism to grasp and help with hand-eye coordination. These toys foster cognitive development and make learning an interactive experience.
While the toys mentioned here are highly recommended, it's crucial to remember that the most beneficial toy is one your child finds enjoyable and meets their unique needs. Observing your child's reactions to different toys can provide valuable insights into their preferences and development areas. Be open to experimentation and flexible with your choices.
To sum up, the right learning toys can significantly contribute to a child with autism's overall development and well-being, no matter the age range. Understanding their unique sensory needs, stimuli, and the therapeutic value of play can help you create a more enriching and engaging learning environment for them.
Parents, caregivers, and therapists play an indispensable role in guiding the child's interaction with these toys. Pair these tools with love, patience, and a keen understanding of your child's needs. This approach will help create a holistic and successful learning experience, reinforcing the belief that children with autism are not just playing—they're growing.
Our Occupational Therapists and SLPs are incredible resources when searching for toys that are right for the children at Bierman Autism Centers.
Careers
Are you interested in a career with Bierman Autism Centers? If so, check out the open ABA Therapy Jobs section and apply now!