It is that time of the year when we are all trying to find the best holiday gift for those we love. As a parent, family member, or friend to a child whose language is developing, it can be hard to know what toys might encourage language. To encourage language, the child must be exposed to different possibilities. Sabrina Bankemper, one of our wonderful  Speech Language Pathologists at Bierman Autism Centers, has compiled a list of toys to encourage language that might be helpful this holiday season and beyond.
While there is an abundance of toys out there, it is important to note that not every child will enjoy a toy the same. Does the child you are shopping for cover their ears when noises occur, and they love when lights change colors? Maybe the toy fire truck with the sirens isn't the perfect gift this year. Look at a star machine that displays stars and planets on the walls in different colors.
Cause and effect toys: These are the toys that might pop open, play music, lights might twinkle, you name it! These toys require something to be done for something exciting to happen.
With these toys, you can model language like the color of a button you are pushing or the light that turns on, the word "push," "pop," or "wow!" Engaging in repetition is a wonderful way to give opportunities for language.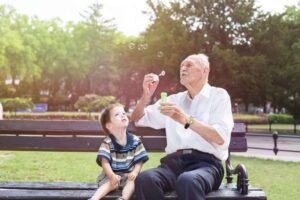 Bubbles: There is something about bubbles that can engage anyone, no matter their age. You can use wands that feature different shapes and sizes, all of which can be commented on!
When it comes to modeling language and encouraging language in children, some commonly used phrases could be "blow up," "pop," "more," "help," "again," "star," "circle," "big," "it's falling," or "up, up, up." If the child is curious, you could describe the bubble solution in the way it looks and perhaps set up a station where the child can feel the solution.
Animals and their home: A farm set with several animals and their very own little farmhouse provides many language opportunities.  You can label the animals, talk about their sounds, and what colors they are.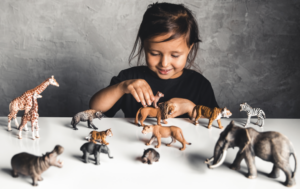 Implementing the animal's home into play can allow for the child to be introduced to language such as "in," "out," "up," "down," and many others. Another fun way to use these items would be to demonstrate and label the movements they might make. Example: you and the child are playing with a cow, and you are talking about it, mimicking the sounds it makes and how it might walk, when suddenly, you stand up and start to demonstrate it with really big movements. The child might try to join you, demonstrating imitation skills.
Books: Watching a child engage with a book for the first time is really neat. And when I use the word engage, I don't mean it in the sense that they are reading the pages (although that is also neat!). I mean activities like walking up to it and picking it up while looking at the front cover, opening the book by themselves, or bringing the book to someone.
Books can be a nice way to wind down after a long day, but at this point, you might be overreading the same book with the same story. Totally get it! Sometimes, it can be easier/ more fun to tell a new story using the same book! This can allow the room to incorporate movement into the time being spent with each other. Example: a horse is galloping through the woods, so you start to move your knees in a way that mimics the gallop of a horse, and the child is laughing as they go "up and down!" or "fast!" and then "slow." Other times, it can be nice to skip the story and talk about the pictures in the book.
These are just a few ideas of different toys that might encourage language in children. From pretend star gazing to running around with a little horse toy, there are many ways to promote language and make memories.
The possibilities are endless!