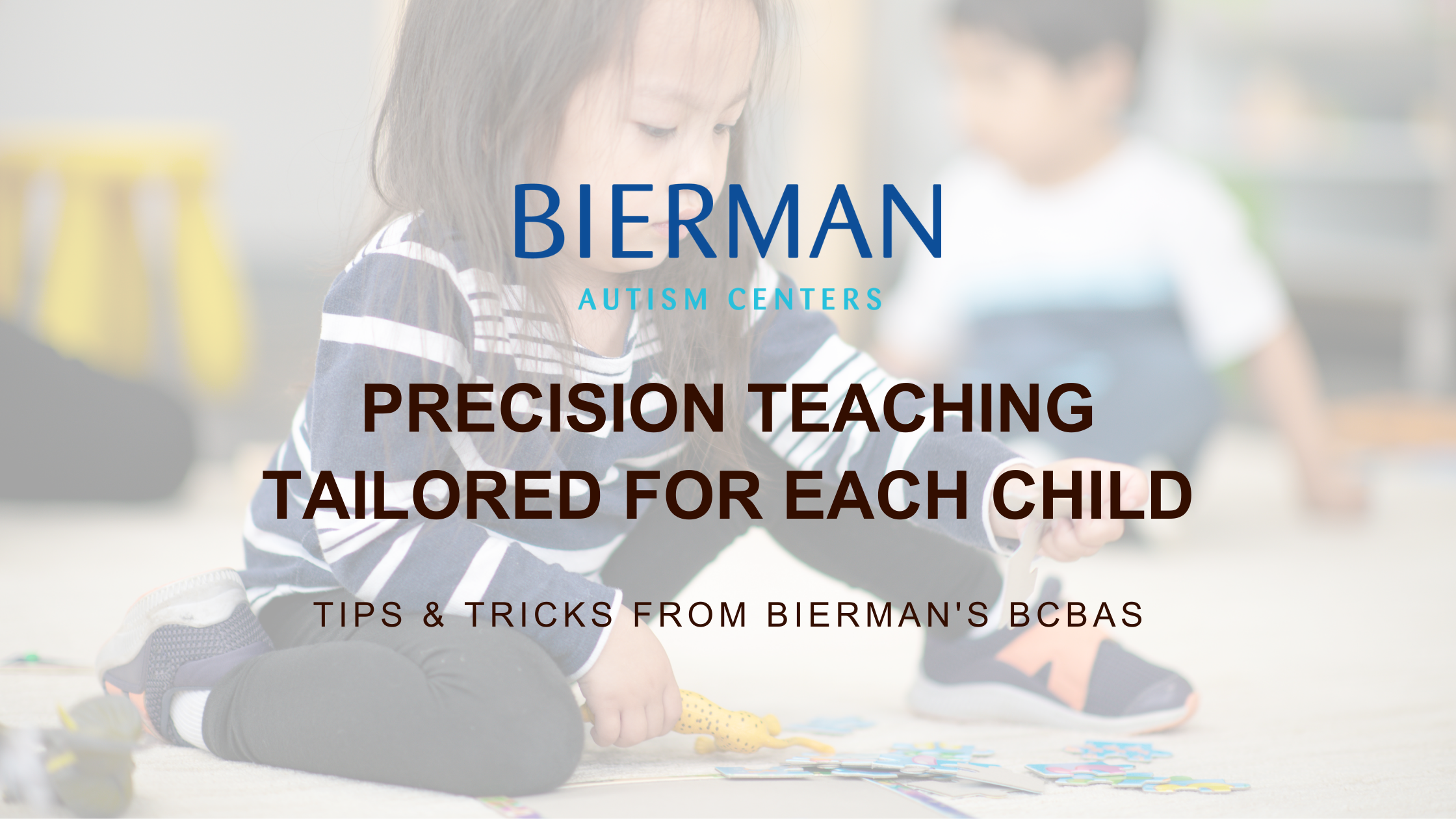 When parents come to us, they often ask what we mean by precision teaching and why we use it.
Precision teaching has a heavy emphasis on driving progress be continuously reviewing how each child is doing. One of the most important features to us, is the philosophy that "the learner is always right." When things aren't going the way we expected, we don't blame the child (or learner). As clinicians, we assess the environment, each child's skill set and reflect on the directions we provided and the child's reaction. It's then our responsibility to make changes to our program to create the experience the child needs to learn. Each child is unique and it is our job to make learning fun.
Sometimes, it is clear that the learner is telling us something is wrong with our therapy program, or that they just don't want to do it.
But isn't it bad if the child refuses or says no to participating? Absolutely not! We, at Bierman Autism Center, believe that the learner is always right, so if the child is communicating to us that they do not want to participate or something is too hard (assent withdrawal), we will then pivot in a new direction. It is our jobs to determine why they didn't like it and make the appropriate changes.
We never want the therapy we provide to be cookie cutter and one-size fits all. It is our responsibility to create individualized goals and strategies that are in alignment to each family's needs and future family goals. Each child is unique and should learn in a way that is best for them.
Precision teaching creates a positive and supportive environment to create appropriate behavioral changes. We can track the rate of change as each child learns a new skill. This allows us to constantly make changes to ensure we are making progress meaningful to both the children and families we work with.
So let's dive into an example of this:
We are working on completing a puzzle. The child starts to become visibly upset and pushes the puzzle away. Instead continuing to try that same puzzle we might check to ensure that we didn't try a puzzle that is too hard. If we determine that they do have the skills we might teach them to ask for help, maybe it was that they couldn't figure out just one piece or find the piece that they needed. We could even find puzzles that have some of their favorite characters on it to make the activity more enjoyable.