Celebrate with these enjoyable, sensory-friendly New Year's crafts for kids! These simple yet creative ideas are perfect for a countdown to midnight or a Noon Year's Eve celebration and are great for children diagnosed with autism to keep busy. Not only will they have a great time, but they'll also have special mementos to look back on in the future.
New Year's Party Sensory Bin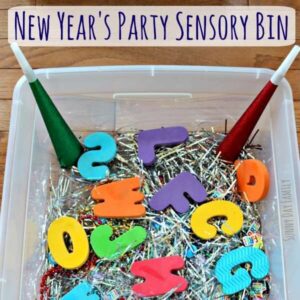 Sunny Day Family
For this New Year's Eve sensory bin, feel free to use items you already have at home or from other holiday activities. You can also add items that have glitter or sparkle to add some extra excitement. Be creative and make it your own!
Build new vocabulary: confetti, beads, party horn, hat, new year, celebrate.
——–
New Year's Eve Countdown Chain

The OT Toolbox
Count down to the New Year with this activity for kids. This countdown chain can be used in the hours leading up to midnight or as a Noon Year's Eve activity. Have fun counting down the final moments of the year together!
Build new vocabulary: paper, scissors, glue, celebration, count down.
——–
Paint and Eat Fortune Cookies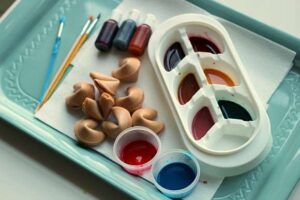 No Time for Flash Cards
New Year's Eve is a great time to consider the future and make predictions. One playful way to do this is by opening a fortune cookie and seeing its message. Make your New Year's Eve celebration even more special by painting your own fortune cookies! Not only will it be a fun activity, but it will also serve as a tasty treat to enjoy with friends and family.
Build new vocabulary: fortune cookies, food color, milk, water, ice cube tray, and paint brushes.
——–
Looking for some extra resources to keep your child with autism engaged and distracted from the noise of fireworks? Check out our previous blog post for more activities to help.
We hope you enjoy creating these festive New Year's Eve crafts.
If you'd like to learn more about Bierman Autism Centers, please don't hesitate to contact us at 800-931-8113 or start@biermanautism.com.
We'd be happy to share more information with you.