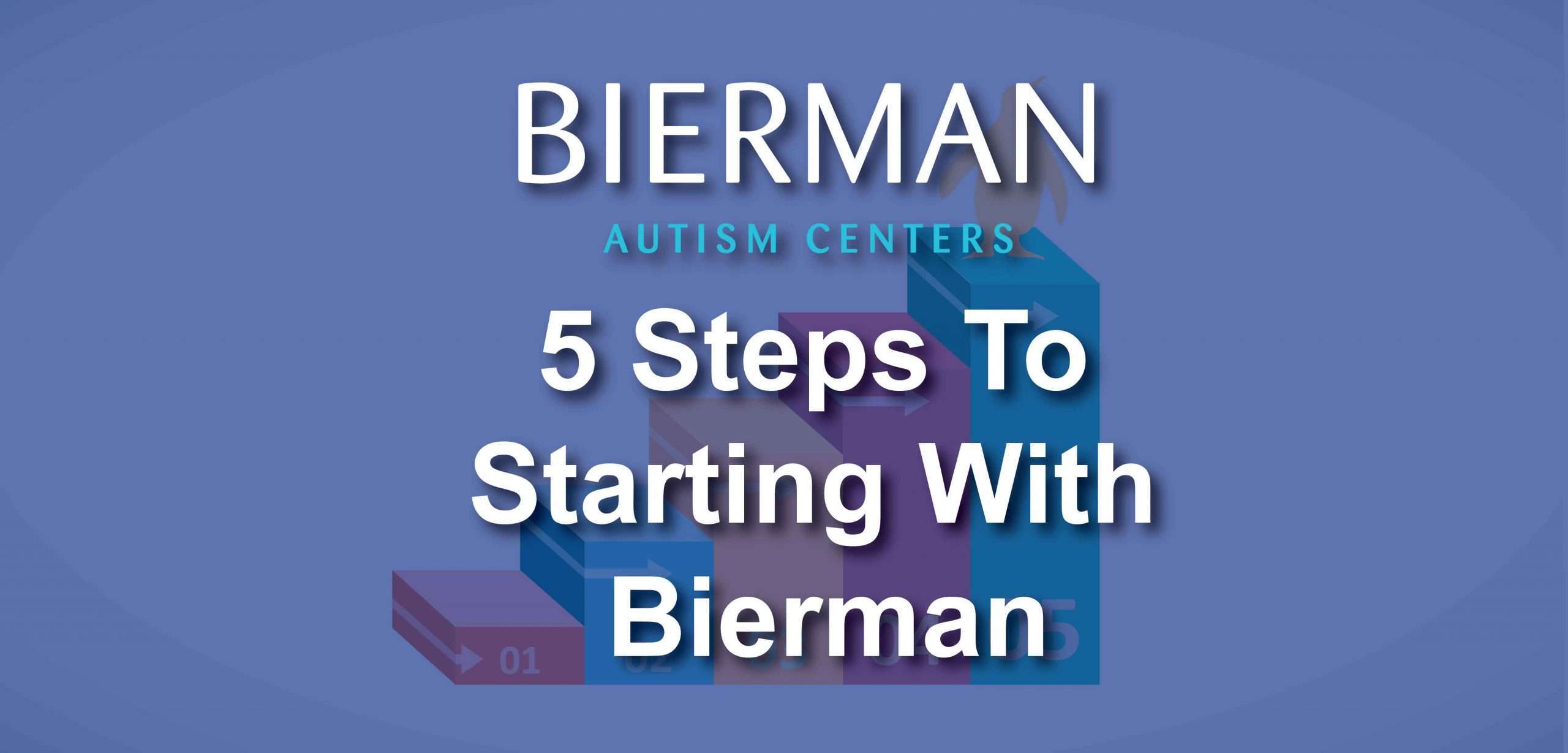 The five-step plan – You can find them for just about anything these days: Five Steps to Achieving Any Goal, Five Steps for Success, Five Steps to Achieve Your Best Year, etc. My personal favorite? The Backstreet Boys' Five-Step plan in their 1990 hit, "Step by Step." Here are 5 steps to start with Bierman.
These plans can be great, but they rely heavily on you to do the legwork to develop those steps.
When you're the parent or caregiver of a child with autism or searching for autism diagnostic services, it can be worrisome and full of unknowns. This is not the time for you to develop your own plan to obtain services for your child. We're taking the guesswork out of the process to help you navigate. 
Step One – Contact Us
We've got three ways you can contact us, and one of our skilled intake team members will answer or respond to you as soon as possible.
Step Two – Autism Diagnostic Testing
Testing is the first step in acknowledging and understanding how your child's mind works and giving them the resources needed to succeed. While public awareness of autism, research, and insurance coverage are more widespread, access to diagnostic testing can be challenging. At Bierman Autism Centers, we're fortunate to offer diagnostic testing services at our centers.
Schedule your appointment.
Contact our Client Intake Team (800-931-8113 or start@biermanautism.com) to determine eligibility and prepare a time for your child to take the test.
Testing Time – The evaluation will include a parent interview using the M-CHAT tool and scheduled testing with the child using assessments such as the ADOS, CARS etc.
Results – Your family will receive testing results typically within 1-2 weeks following your scheduled testing. From there, our Client Intake Team can help you with the next steps!
When your child receives evaluation for diagnosis at Bierman, information from the diagnostic report is shared with your child's behavior analyst to create a unique treatment plan.
Step 3 – Registration
You made the initial call, completed the testing, and now you have a diagnosis. Everything seems scary and overwhelming, but we're here to help each step of the way. Take our hand, and let's keep moving.
To get your child started at Bierman Autism Centers, the next step is to fill out the Registration and Initial Assessment forms sent to you by our intake team, and we'll begin working with your insurance.
Insurance is complex, confusing, and hard to understand. This is why we have our Insurance Team do the heavy lifting. They will check your current policy and alternate funding sources if required. Our billing department is set up to handle all insurance needs, from authorizations to ongoing claims and billing.
Step 4 – Tour the Facility
Now it's time to check out the center and learn more about our services. You'll meet our Behavior Technicians, Behavior Analysts, Speech Pathologists and Occupational Therapists and learn how each team collaborates to provide services unique to your child.  Our team is dedicated to making learning welcoming and fun by erasing the line between learning and play.
We provide the unique opportunity to connect diagnosis and treatment, creating a comprehensive care plan for your child's ABA, Speech, and Occupational Therapy across a complex healthcare system.
This tour allows you the time to explore while your child gets a chance to experience all the joy and fun of our center. We're here to ensure your child becomes a confident and empowered lifelong learner.
Step 5 – It's Time to Create Progress and Possibilities 
You've taken the deep breaths. We've made the big first steps. Next up? It's time for us to use our one-on-one approach to drive progress, and measurable outcomes, while your child advances on their own terms.
We'll use naturalistic teaching to teach through play. We understand that children are always right – and if they are not learning, we adapt to them. We ensure children progress and develop skills through our proprietary data measurement system.
Our team's comprehensive goal is to work together, so your child graduates from our center and becomes a lifelong learner with long-term success. With over 200 graduations, we are constantly searching for ways to provide the best possible intervention for each child by focusing on treatment that creates excellent outcomes.
We think you're ready to take these next steps with us. Reach out to us via email at start@biermanautism.com or call 800-931-8113.