Bierman Autism Centers relies on highly skilled and compassionate Board Certified Behavior Analysts' (BCBAs) expertise to provide exceptional care to children diagnosed with autism. Our team of BCBAs is committed to transforming the lives of our young clients and providing them with the necessary tools to achieve their full potential.
Our unique approach focuses on individualized and natural play-based therapy sessions that teach foundational skills, such as communication and self-advocacy, that can benefit children's daily lives. We believe that each child's success is unique, and we strive to tailor our therapy sessions to meet their specific needs.
As a BCBA at Bierman, you will be able to work with children aged 2-9 in a center-based setting. Using evidence-based Applied Behavior Analysis (ABA) therapy, you will help children diagnosed with autism and other developmental and language delays to achieve their goals.
We spoke with one of our talented BCBAs, Christine Miseo, at our Eatontown and Princeton, NJ, Centers to learn more about her experience working at Bierman.
Pursuing a career as a BCBA is a rewarding and fulfilling opportunity to positively impact the lives of children diagnosed with autism. Join our exceptional team today and take the first step towards a meaningful and impactful career.
Tell me about yourself and why you joined Bierman.
My name is Christine Miseo, also go by Chrissy. I live in NJ and recently adopted a puppy named Tayta. I started my career in applied behavior analysis over 10 years ago as a therapist, then BCaBA, and finally, a BCBA in 2018.
I recently joined Bierman in September of 2022. I love how Bierman is a positive environment for clients and staff. We teach our clients while having fun (erasing the line between learning and playing). I love that at Bierman. You never sit still. Once you achieve your goals, you continuously raise the bar to hit your next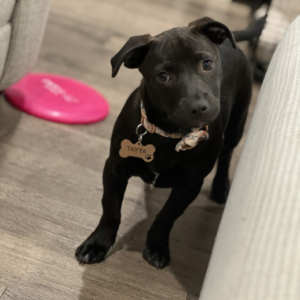 What was your journey to becoming a BCBA?
I attended Saint Joseph's University for my undergraduate degree, earning a Bachelor of Arts in Special Education and Pre-k to Fourth and a Bachelor of Science in Autism Behavioral Studies. While at SJU, I worked at a clinic on campus and fell in love with ABA. I completed my supervision hours and passed my BCaBA in 2016. Then, I earned my Master of Science in Psychology in Applied Behavior Analysis from Florida State University in Panama City, Florida. I passed my exam shortly after graduating and became a BCBA in 2018. Even though I enjoyed the beautiful beaches, I moved back to New Jersey to continue doing what I love. Now I am continuing my career as a BCBA with Bierman Autism Centers to work with children, encouraging their progress and celebrating each step!
What are the training and continuing education courses like at Bierman?
Training is consistent across new employees but also individualized. You can work through it at your pace with constant support from your clinical leadership. You have opportunities for continuing education after the training is over and can meet with your clinical director about current goals and steps for meeting future goals.
I enjoyed the assent withdrawal one as it focuses on compassionate care and hearing your client's needs while helping them to advocate for themselves.
What does your caseload look like?
I have seven kids right now split between Eatontown and Princeton, NJ.
Tell me about a typical day for you.
Every day is different at the moment. While splitting my time between Eatontown and Princeton, I have a few kids in the community, home, and center. My schedule depends on the day– I might be at the center the whole day, spend some time in the community with a client, or begin my day in the home environment. Also, a few days a week, I instruct BTs about the principles of ABA to assist them in passing their RBT exam.
How does a BCBA collaborate with other client care team members?
After discussing with a parent and receiving consent, I reach out to set up a time to speak about priorities with each team member and make sure we are consistent with our strategies to give our best support to our client. Across all team members, our goal is to put the client first and push them to their fullest potential.
How does a BCBA collaborate with the client's family?
Constantly! In the morning or afternoon at drop off. By email or phone if a quick check-in is needed. Then we have formal meetings about two times a month to review client progress, parent goals, gains of the client that the parents have seen, and any concerns the parent may have. This ensures we are helping the client and family to give them the best treatment.
How do you decide what to work on with a client and measure progress?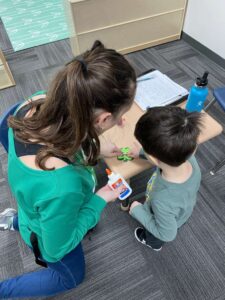 I decide based on the individual and the foundational skills necessary to be independent or communicate their wants and needs. From there, we probe to see what skill the client has and the skills that need some support, and we focus on those until they are mastered across people and environments. Also, we prioritize skills based on what is considered important to the family and client while still staying within the limits of medical necessity. All our work with clients and measuring their progress adheres to our core principles without compromise – constantly consistently assessing and working with our clients and families.
We measure progress by assessing the acceleration of their independent responses. When we do not see progress, we complete an error analysis to see why the errors occur. This helps us edit the goal's teaching to get our client back to progressing in the skill.
Are there growth opportunities for BCBAs at Bierman?
There is constant growth in your learning of new assessments or research to be a part of. There is growth in your education with CEUs offered monthly or journal clubs. You can also supervise someone gaining their hours or support onboarding a new BCBA. Additionally, there are always other cases to support. Growth could also come in the form of becoming a clinical leader (like a CD could be the next step).
What is your favorite part of being a BCBA?
I love being a support and educator for clients and therapists to make both the best versions of themselves, leaving a meaningful impact on the lives we help.
What makes Bierman different from other ABA providers?
Bierman pushes for the best for you as an employee and for the client. I love the balance between both that and supporting one another. The team is above the individual.
Any words of advice for anyone interested in becoming a BCBA?
Love what you do, and always put yourself in someone else's shoes when teaching or making decisions. Communication is a vast piece; no one can read your mind. Always ask questions when you have a concern or need help.