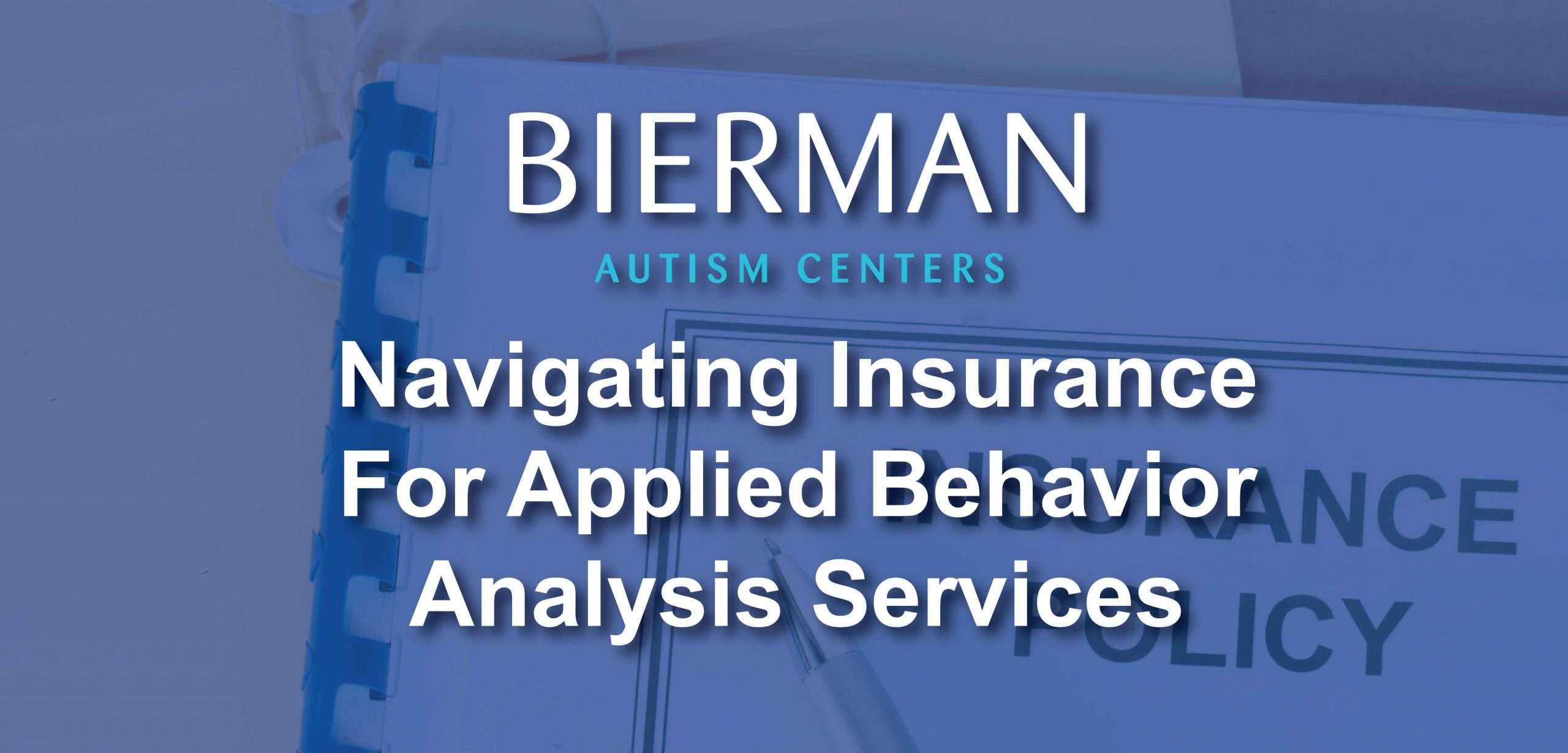 This blog will discuss how to navigate insurance for ABA services (Applied Behavior Analysis). Our goal is to help you understand the different types of insurance and help you familiarize yourselves with common terms.
Note: The following blog post is based on a Bierman Caregiver Webinar by Emily Roche.
Let us start with the types of insurance:
Employer-based
This is insurance that is provided by your job. Your employer can choose from different insurance policies, and it will be either fully funded or self-funded. The rules governing your employer policy may also vary based on whether your employer is considered a small group (less than 50 employees) or a large group (more than 50 employees). Employer policies are also known as "commercial" insurance policies, which means they are administered by non-government companies.
*Fully-funded insurance policies are subject to all state mandates. These policies are called fully funded because the administrator (such as Anthem, Cigna, and Aetna) actually "funds" or pays for any insurance claim you file.
*Self-funded insurance policies are not subject to state mandates and only have to follow federal mandates. ABA is not a federally funded benefit. These policies are called self-funded because your employer is actually "funding" or paying for any insurance claim you file.
Individual policy
These insurance policies are often purchased by self-employed people or do not have access to an employer policy for some other reason, for example, working as a contractor. Individual policies may be purchased off of a health insurance marketplace or can also be purchased directly through an insurance broker. In addition, if your employer policy does not cover ABA services, you can purchase a child-only, individual policy to access benefits for coverage of ABA. These are also commercial policies.
Medicaid
Medicaid is generally for children ages 0 to 21. Children with autism may qualify for a Medicaid policy based on different options in your state. Some families may qualify based on income. Children can qualify in some states based on a specific diagnosis or disability. And other states may have waiver programs that children can qualify under. Medicaid is public insurance because it is managed and funded by the government.
Insurance Mandate for Autism & ABA
ABA therapy is covered by insurance in many states because mandates have been passed through the state legislature. All 50 U.S. states now have either a state mandate or a directive to cover ABA therapy. Fully-funded insurance policies are subject to these state mandates. Your state's mandate may include other benefits such as speech therapy, occupational therapy, or physical therapy. We have an additional blog post about the mandates in each state if you want to learn more.
Since self-funded policies are only subject to federal law, your employer does not have to cover ABA services. However, employers can always "opt-in" to cover benefits beyond the federally mandated minimum, essential benefits. Thus, many self-funded policies include ABA therapy and other benefits for mental health diagnoses. If your policy does not cover ABA therapy, we recommend that you discuss this exclusion with your human resources department. Many employers may not know specific information about autism treatment or ABA therapy and have been open to adding benefits after hearing from their employees.
Insurance Terms
Premium:

the monthly payment that you usually make for insurance. With an employer policy, your employer is matching some of the cost; this is just the monthly payment you make to the insurance company.

Deductible:

The cost that you pay upfront, out of pocket, for your initial medical care each year. For example, if your policy has a $1000 deductible, you will pay that amount out of pocket before your insurance starts to cover any costs.
Co-payer or Co-insurance:

The out-of-pocket cost after you have paid your full deductible. Once you have met your deductible, insurance will start to pay some of the cost. However, you will usually still have to pay a small amount for each medical appointment. Either a set amount is known as a co-pay or a percentage of the cost of a visit, which is called co-insurance.
Out of Pocket Maximum:

The total dollar amount you pay out of pocket each year. This is made up of your deductible and co-pay or co-insurance. After you have paid your out-of-pocket maximum, insurance will pay 100% of your medical costs.
Explanation of benefits:

The paperwork provided by your insurance company that shows what was paid or not paid for each medical visit. Many insurance companies now store this information online rather than sending paper copies.
When working with insurance, you may come across many of these terms:
Primary Care Physician (PCP): your PCP will refer you to a specialty
services such as ABA therapy, occupational therapy, speech therapy, etc.
Medical Necessity: Your insurance company will only pay for services deemed medically necessary. Medical necessity is defined as healthcare services that a professional exercising prudent clinical judgment would provide to a patient to prevent, evaluate, diagnose, or treat an illness, injury, or disease. Suppose an insurance company denies any services by stating that the service is not medically necessary. In that case, you can ask your doctor to help write an appeal stating why the treatment is medically necessary.
Authorization
Your medical provider will almost always have to submit a request to your insurance asking that ABA services be approved. You will need to get authorization for the initial assessment and for ongoing ABA services (usually every 6 months). Insurance companies will ask for several documents, such as diagnostic reports, treatment plans, assessment scores, or data on goals.
Appeals
If your insurance company denies services or treatment, you may file for an appeal. Your services provider can write a letter providing the clinical rationale for the appeal. Insurance companies will often require that you, the member, submit any appeal. However, you can designate another individual, such as your provider, to be able to submit an appeal on your behalf. At Bierman, we can assist you with this process and walk through all necessary documents and forms with you.
Mental Health Parity and Addiction Equity Act
Federal law requires insurance companies to treat any diagnosis for a mental health condition equally as they would a physical condition. Often any type of dollar, age, or visit limit imposed on an insurance policy violates this law. In addition, parity violations would include non-quantitative requirements or barriers such as overly restrictive medical necessity criteria, limitations on places where services can occur, or excessive testing requirements.
Diagnostic Report
Insurance companies will almost always require that a child have an official autism diagnosis to receive ABA services. This is because most state mandates only require insurance companies to cover ABA for children who have an autism diagnosis. Be sure your child receives complete diagnostic testing from a doctoral-level provider and you are given a clear and thorough report. When you get the report from the doctor, make sure it clearly states your child's diagnosis, what kind of testing they did, and the evaluation results. Don't be afraid to call your insurance company if they are giving you a difficult time with your policy. Remember, you're the customer, and the insurance company should be available to assist you.
We recognize that applying for insurance and understanding your policy can be tricky, so we hope this blog clarifies some things for you! If you ever have questions, please don't hesitate to contact the insurance team here at Bierman.
About the Author:
Emily Roche joined Bierman's team in 2019 and has been working in payer contracting and revenue management for ABA organizations since 2012. Currently the VP of Contracting and Revenue Cycle Management, Emily oversees Bierman's insurance and billing team. Through her work at ABA agencies, Emily has been involved with public policy to improve legislation for mental health services and advocacy for ABA therapy. With a background in contracting, credentialing, authorizations, and appeals, she has often provided training throughout the ABA industry on these topics and has been invited to speak at national conferences such as the Autism Law Summit and the Association of Professional Behavior Analysts annual conference. After pursuing a bachelor's in business administration from Gonzaga University, Emily completed a master's in health administration at the University of Colorado. She currently lives in Indianapolis.