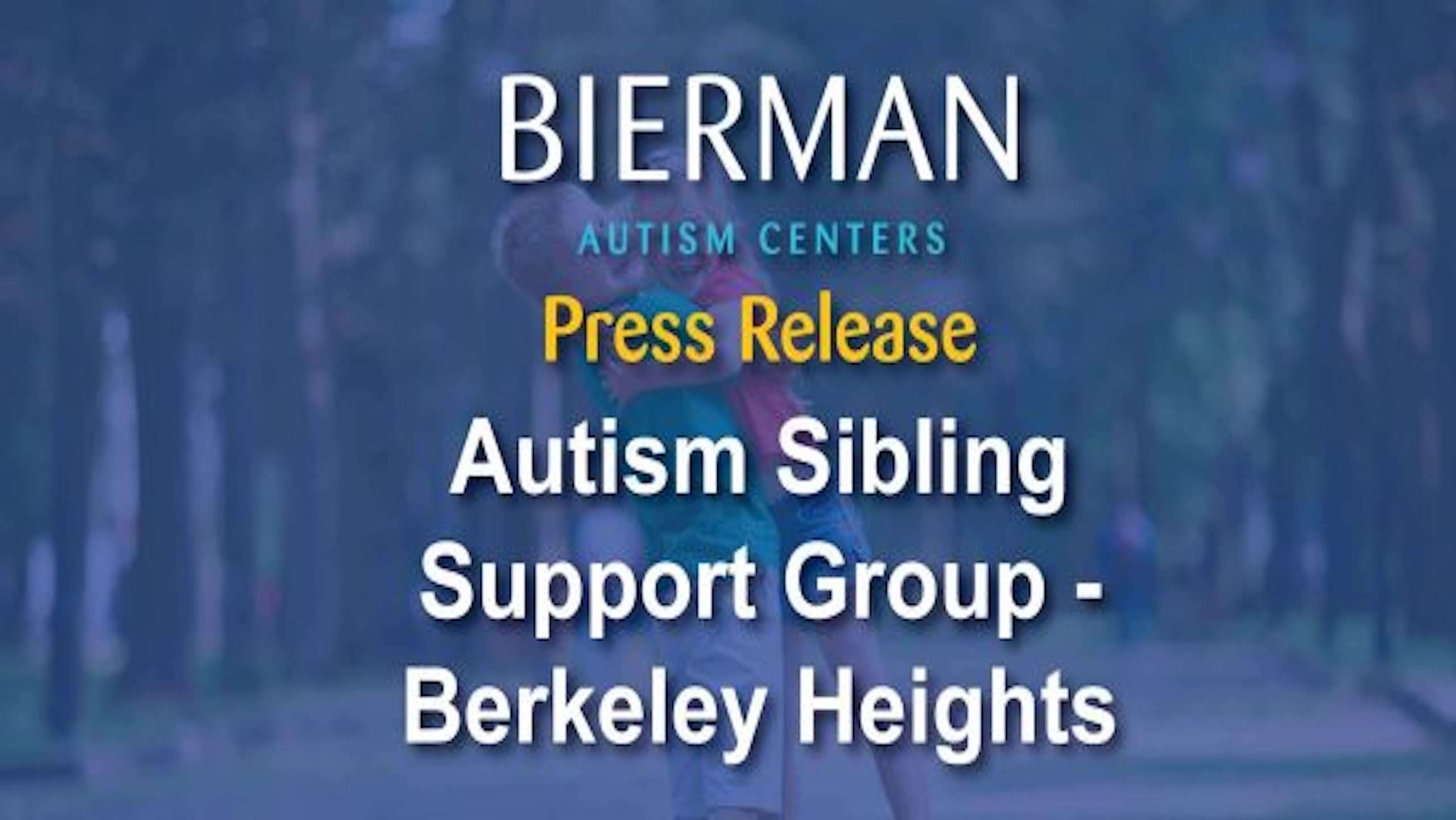 Berkeley Heights, NJ – Bierman Autism Centers (Bierman) is ecstatic to announce the offering of free support groups for siblings of children diagnosed with autism. This program will provide a nurturing environment for siblings to connect, share experiences, engage in play, and, most importantly, have a blast! This program will be led by Dr. Catherine Lark, Ph.D., BCBA-D (NJ Licensed Psychologist #6692).
This new support group enhances the resources Bierman offers to their clients, their families, and the local community. In addition to ABA Therapy, Speech Therapy, Occupational Therapy and Diagnostic services, Bierman hosts caregiver trainings and community sensory-friendly events such as movie nights, photos with Santa, lego clubs, petting zoos, and so much more.
Siblings of children diagnosed with autism often face emotional challenges, including feelings of guilt over their own ease with tasks and understanding concepts. Worries about future care could compound this sense of inadequacy if something were to happen to their parents. Younger siblings may also struggle to understand why their sibling with autism acts differently and lacks interest in play. It is a common struggle faced by the brothers and sisters of children diagnosed with autism.
It's natural to have these emotions when a sibling has autism. The diagnosis impacts the whole family, and managing these feelings in a safe environment is vital. Dr. Lark shares, "The support group connects siblings with others facing similar experiences, reducing loneliness and fostering strong new bonds."
According to the CDC, New Jersey has the second highest rate of autism in the nation, at 1 in 35.
With locations in Berkeley Heights, Eatontown, Princeton and Ramsey, Bierman is dedicated to helping families in New Jersey and believes that every child's success is unique. Bierman offers ABA therapy, diagnostic services, and speech and occupational therapy for children diagnosed with autism up to 9 years old.
If you would like to learn more, please email start@biermanautism.com or call 800-931-8113.
ABOUT BIERMAN www.biermanautism.com
Bierman Autism Centers is a place where kids as young as 18 months to 9 years of age engage in play to learn foundational skills they can build on, such as self-advocacy and communication. They recognize that every kid's success is unique, and their one-on-one approach allows them to drive progress, and measurable outcomes, while each child is advancing on their own terms.
With over 200 graduations, Bierman currently has centers and is expanding in: Arizona, Indiana, Massachusetts, North Carolina, New Jersey, Ohio, and Rhode Island. For more about Bierman Autism Centers, visit www.biermanautism.com or contact Alexis Ducharme at marketing@biermanautism.com.